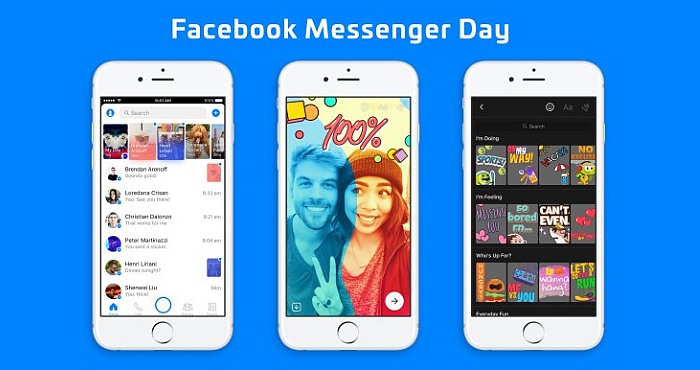 Facebook Messenger has become the most recent messaging app to join the bandwagon of apps that have adopted a new feature called Stories. Earlier, several messaging apps such as Snapchat have adopted Stories. If you are hearing about Stories for the first time then let me tell you that this is a collection of photos and videos that people can share with others. These messages are usually self destructive which means that they can disappear after staying visible for 24 hours only.
Messenger has been testing with various versions of the a format which is formally known as 'Days' and now it is formally releasing the app to different users of iOS and Android platform around the world. The users of Messenger can take photos and videos using the in-app camera and then upload their pictures on Day. These photos will remain on Day for about 24 hours only so their friends have a limited time to watch these media files.
We have seen the same features alreacy been used on different messaging applications such as Instagram, WhatsApp, and Snapchat. The only difference is that it goes with a unique name. Facebook Messenger has also been testing Stories in its main application.
This incredible Stories format was first created and popularized by Snapchat. It was one of the most popular features of this app. Sometime around August last year, Instagram also launched a similar feature. Facebook has been working hard to integrate features to all its other applications.
So, what's the main objective of this new feature or update?
The chief objective of Stories is to encourage people to share more often than usual, particularly because the old posts disappear after 24 hours. This feature makes more posts being considered as worthy of sharing with others. Kevin Systrom, the CEO of Instagram recently said in an interview that Instagram users have been sharing a lot of stuff since the app adopted the new feature known as Stories.
The move made by Facebook to include the new exciting feature of Snapchat and Instagram in its own app just goes to show how concerned the company is about losing its young users to rival.
This new approach by Facebook will have an impact on Snapchat's plans to go global because Facebook reaches out to more countries than Snapchat. So, when Snapchat is finally launched in these countries, peple have less interest in trying it out as it offers nothing new.